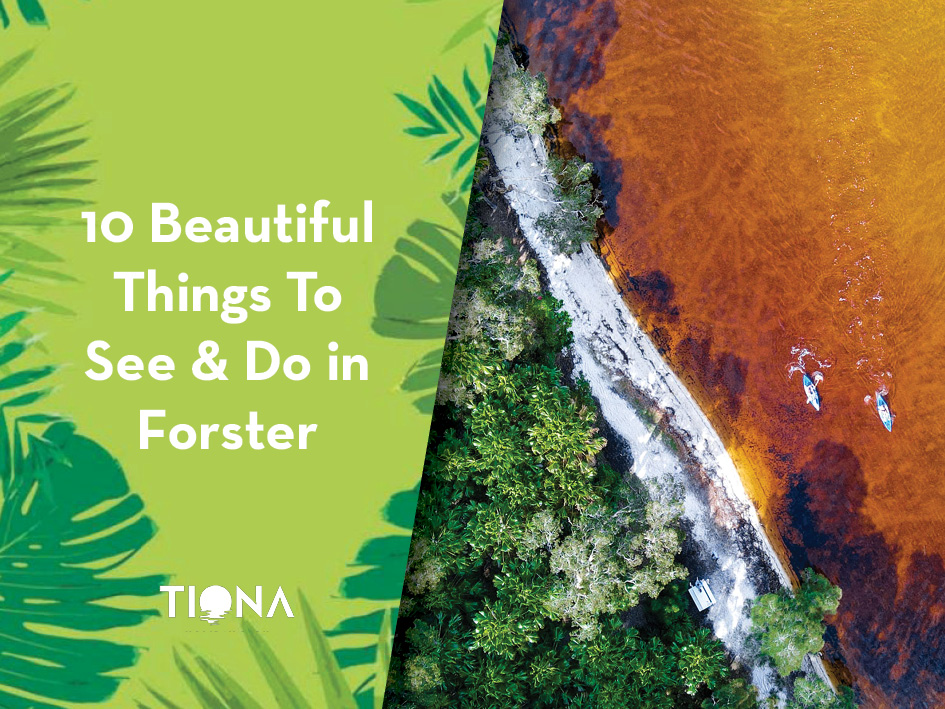 Forster is a coastal town in the Mid North Coast region of New South Wales, Australia, in the Great Lakes Shire. It is situated on Wallis Lake and at the mouth of the Manning River, about 308 km north-north-east of Sydney.
The list is endless if you are looking for things to see and do in Forster NSW. But we'll cover the top 10 things to see and do in Forster (in our humble opinion!).
Our List of Top Beautiful Things to See and Discover near Forster (NSW)
Forster and the Barrington Coast region is well known for its beautiful waterways and Manning Valley charm. If you are planning a visit to Forster or Tiona, here are our top 10 things to see and do for those looking for a visual treat!
1. Picnic, or Paddle at Wallis Lake
Wallis Lake is a large fresh water coastal lagoon in New South Wales's Mid North Coast region. Tiona Holiday Park is lucky enough to call the shores of the lake it's own! The lake runs from Tiona north to the town of Forster and is separated from the Pacific Ocean by a narrow barrier spit (right where we are!).
Wallis lake is famous for its stunningly beautiful crystal clear water, which is great for swimming, snorkelling, fishing, paddle boarding and water sports. Sunsets on the banks of Lake Wallis are something to be seen with vivid colours and beautiful scenery. If you're looking for something else to do on the lake, take a Wallis Lake Sunset Cruise with some local oysters and wine!

2. Swim at One Mile Beach
One Mile Beach is located in the residential suburbs of Forster. The beach is a popular swimming and leisure spot for locals and visitors alike.
According to popular belief, the name One Mile Beach comes from its distance from the Forster post office, not the length of the beach. It is excellent for swimming, sunbathing, surfing, and fishing. This beach is patrolled throughout the tourist season and also offers a large park with BBQs, picnic facilities, and a playground.
Dolphins can also be regularly seen surfing the waves!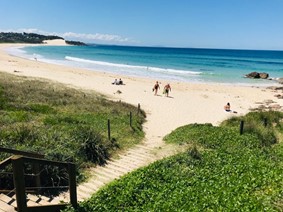 3. Explore Coorabakh National Park
The National Park features various landscapes, including rainforest, heathland, and swamps. Several walking tracks through the park range from easy to difficult. The most popular track is the Coorabakh Circuit, which takes about 4 hours to complete.
Volcanoes shaped much of the Australian mainland millions of years ago, leaving dramatic escarpments and rocky plugs as they vanished and faded. Big Nellie, Flat Nellie, and Little Nellie are three volcanic intrusions that may be seen in Coorabakh National Park, which dominate the region.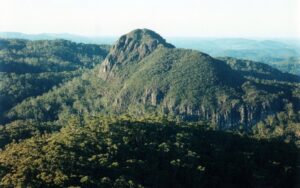 4. Enjoy Tuncurry Rock Pool
Tuncurry Rock Pool on the Barrington Coast is one of Australia's most-visited family beaches. With its white sand and blue water, the Rock Pools are a great spot for a beachside picnic, local fish n chips or a salty swim. Not a rock pool by usual definition, the beach is bordered by rock walls to the harbour, and is netted.
It's a short walk in to town including a popular cafes, so make a half day of it! This beach isn't patrolled. Swimmers should take care as there can be strong currents at times.
5. Go for a Bushwalk in Booti Booti National Park
Running South from Tiona to Elizabeth Beach, The Booti Booti National Park covers an area of 1566 hectares and is bordered by the beach and the Wallis Lake foreshore.
If you're up for a bit of nature exercise, the Booti Booti hill walking trail is a must to take in both the lake and the beautiful Seven Mile Beach.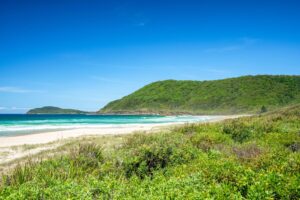 6. Walk in Trisha's on Blueys
Trisha Fitzpatrick is an extremely adaptable artist, able to change her style to fit the demands of her numerous commissions while maintaining a solid sense of self in her work. This native Australian artist now resides at Blueys Beach, where she operates a studio and gallery.
Trisha was a finalist in the Australian Artist Magazine's Art Prize Challenges, where her writing on art has since been published. Trisha is available for walk-ins when she's in her studio. Private viewings can be booked by appointment.
7. Boutique Shopping in Forster
Forster is a great place to do some boutique shopping. Several unique stores sell beautiful items that you won't find in big chain stores.
You can also find several art galleries in Forster, including Gallery 141 and The Glasshouse. Once you're done with all that shopping and viewing, make sure you take a break for some of the best fish and chips around at many of the fish and chip shops in town.
8. Play a Round of Golf
If you're a golf fan, you'll be happy to know that Forster has two great courses to choose from – the Forster Tuncurry Golf Club is set over two locations, with two courses, two club houses and two separate experiences!
(As well as a kid-friendly mini golf in the centre of town)
The Golf Courses offers stunning lansdcapes and views unique to the Forster coastline. The courses can be challenging depending on who you talk to but also scenic and relaxing for a walk around.
9. Visit Great Lakes Museum
The Great Lakes Museum is located in the heart of Forster. The museum has a wide range of marine & historical exhibits that focus on the history and culture of the region.
The official Tuncurry school building, Police lockup, Cheers Cottage, a functioning windmill, and other outdoor displays have all been added to the collection of the Great Lakes Museum over time.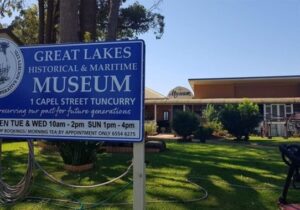 10. Get Mesmerized during Cape Hawke Lookout
Cape Hawke is one of the most popular lookouts in the Great Lakes region. The lookout and viewing platform offers breathtaking views of the coastline and the opportunity to see whales and dolphins swimming offshore.
This magnificent lookout with panoramic views of the national park and surrounding countryside is a 500m trek through the coastal rainforest (regenerating) that leads to it. Winter is the time to enjoy whale-watching, when whales break the surface of the water, blowing spray and revealing their stunning bodies. The area's year-round birdwatching opportunities are better than ever, with pelicans and terns in great abundance.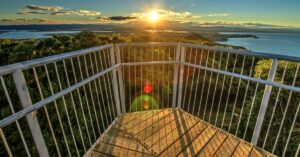 Photo: Barrington Coast
Final Words
Forster is a beautiful town in New South Wales that offers a wide range of activities for visitors. So whether you're interested in exploring the great outdoors or doing some shopping, Forster has something stunning to explore for everyone.
There you have it – our top 'beautiful' things to see and do in Forster, NSW. We hope you enjoy your time in this incredible region, and of course, enjoy your stay glamping or camping with us!
Tiona Holiday Park is a beautiful caravan park located in the Hunter Region, only 15 minutes south from Forster. All of our campsites and cabins are family-friendly, pet friendly, and provide the ideal atmosphere to relax, explore, interact, or play!